An article in Artspace about Andrew Sendor's solo exhibition at Sperone Westwater, on view from March 30 - April 29, 2017.
In Photos: See Andrew Sendor's Studio in Preparation For His Sperone Westwater Exhibition
An article in the Huffington Post about Andrew Sendor's current solo exhibition at the Eli and Edythe Broad Art Museum MSU
http://www.huffingtonpost.com/daniel-maidman/the-independent-dream-and_b_8518718.html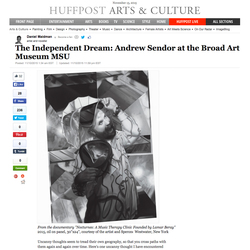 A review of Andrew Sendor's solo exhibition "Delicates" at Sperone Westwater in Whitehot Magazine.
THE INVENTED NARRATIVES OF ANDREW SENDOR AT SPERONE WESTWATER
Andrew Sendor,
Four scenes from the documentary "Interview Sessions with Francis Gray- On Fate, Chance & Circumstance
,"
2014 Oil on panel, 34 × 45 inches, courtesy Sperone Westwater, New York
Andrew Sendor
"Delicates"
Sperone Westwater
, New York
By CASSIE CUMMINS
, MAR. 2015
"Delicates", a solo exhibition by Andrew Sendor currently up at New York's Sperone Westwater, is a collection of the artist's drawings, paintings, and video, all hailing the techniques characteristic of photorealism. In spite of this technical descriptor, Sendor's work does not share the same intentions of traditional photorealistic work. Rather than a mimetic interaction with photography, or approaching photography by way of a different medium, his drawings and paintings are scenes from the artist's invented narratives. What's more, these narratives are of a mystical nature, for which Sendor employs a reoccurring cast of characters that compose a strange and enigmatic other-reality. As such, Sendor's scenes embody collisions of the real and the surreal, each assisting in the other's illumination.
In an essay by Michael Rush, Sendor's most recent work is described as having a preoccupation with cinema, particularly the qualities of cinematic documentation (or moments captured and repeated on film). His works have such titles as "Six replicas of stills from the documentary Interview Sessions with Francis Gray: On Appraising Rare Objects", and "Seven scenes from the documentary The Interior of Delicates & The Enigma of Boris Flumzy (2029)", both of which reference characters of Sendor's own design and "documentaries" about these characters that were never actually made—a detail evidenced in part by the time stamp from the future.
In drawing and painting these "film" stills, Sendor mimics the nature of the film reel—in other words, the act of framing moments sequentially, showing them beside one another, and with minimal variation between images. One painting entitled "Four scenes from the documentary Interview Sessions with Francis Gray: On Fate, Chance & Circumstance
"
, for instance, is composed of two black and white framings of Sendor's Francis Gray sitting at a table. Both images, shown one after the other like segments on a reel, appear to be the same image but with slight variation (in the movement of Francis' hands, or the peeling back of the curtain that hangs behind her). In another piece, this one a drawing, entitled "Six replicas of stills from the documentary Interview Sessions with Francis Gray: On Appraising Rare Objects", in the top right portion of the frame, Francis Gray is shown sitting at table with a pair of mysterious, gloved hands. Then, in the bottom left portion of the frame, there is a zoomed-in depiction of the same image, showing only her hands with the gloved hands. This move calls to mind a sort of storyboarding, as the sequential nature of the images signifies a narrative landscape.
Installation view, Andrew Sendor "Delicates", Sperone Westwater, New YorkOne characteristic of Sendor's work that sets it apart from photorealism, particularly hyperrealism, is the use of negative space in his pieces: the blank space in the middle of the drawing between the frame showing Francis Gray and the gloved hands and the zoomed-in frame showing only hands; the space on the canvas separating sequential "slides"; and the space within the scenes themselves that is silhouetted or blacked out by shadow. In the last instance, extra attention is to be paid to the objects floating in that negative space, emphasizing the extreme precision and detail with which Sendor has executed his renderings. Additionally, the negative space that Sendor utilizes acts as yet another method for collapsing time—creating (what the press release for the show describes as) "stories suspended mid-telling", and "installation photographs of exhibitions yet unstaged".
Ultimately, it seems as though Sendor is interested in the play between the technical and conceptual realms of realism. At times he demonstrates interest in realism technically (as indicated by a formal mastery of his media and the labor that must have gone in to such precise renderings), but at the same time shows a strong disinterest in realism conceptually. The transparency that realism might imply, for instance, is certainly not of interest to Sendor, as the scenes and narratives that he constructs are consistently fragmented. Much like the cinematic genre of "documentary-fiction", Sendor's work indulges in an inherent contradiction of terms.
Finally, the one video piece Sendor has for consideration in the show (
FENOMENO
), which is actually his first film project, is a highly produced, 13-minute film, acting almost as the full iteration of the "drafts" that are his works on paper.
FENOMENO
chronicles a series of mysterious rituals performed by his infamous cast of characters, that culminate in what is described as a spiritual cleansing ceremony in which these same, eccentric individuals burn the protagonist in effigy. Rather than answering what narrative questions the viewer has in seeing his drawings and paintings, the video instead stretches his landscape—the liminal space within which Sendor functions—and transforms it into the moving image.
WM
"Delicates" will be on view at Sperone Westwater through April 11, 2015.
* * * * * * *
5-page feature in the March issue of Art + Auction Magazine.
Weird and Wonderful: Andrew Sendor Takes Painting into the Digital Age
BY
SARAH HANSON
|
MARCH 14, 2015
HTTP://WWW.BLOUINARTINFO.COM/NEWS/STORY/1116650/WEIRD-AND-WONDERFUL-ANDREW-SENDOR-TAKES-PAINTING-INTO-THE
PDF download:
http://media.icompendium.com/artofand_Sendor-Art-Auction.pdf
* * * * * * *
ARTINFO
6 Must-See Gallery Shows in New York
BY
SCOTT INDRISEK
|
MARCH 26, 2015
These grisaille, photorealist oil paintings on panel present an alternate reality of sorts, populated by characters that include the enigmatic Boris Flumzy and Fenomeno. Sendor's hilariously specific titlings for the works obfuscate rather than illuminate — nonsensically identifying paintings as being based on stills from imaginary documentaries, for instance. Sendor's protagonists appear in a short accompanying film, "Fenomeno," which at times reads like a winking parody of Matthew Barneyian excess, with the title character hefting a dumbbell while wearing a blue dress, or moaning in anguish as he's burned in effigy during a mysterious riverside ritual.
* * * * * * *
Current solo exhibition at Sperone Westwater, opening February 28th, 2015
New Paintings, Drawings and a Film
* * * * * * *
Andrew Sendor is highlighted by Artphaire.com as one of five artists to watch at Art Basel: Miami Beach
TOP 5 ARTISTS TO WATCH AT ART BASEL MIAMI BEACH
One of the few grand old galleries on the Lower East Side, Sperone Westwater is best known for representing heavy-hitters with already established careers, such as William Wegman, Tom Sachs, Julian Schnabel, Alexis Rockman, Guillermo Kuitca and Wolfgang Laib. In February, the gallery is taking a bet on young artist
Andrew Sendor
, showing a solo exhibition of his work to mark the beginning of the 2015 season. In anticipation, the gallery is including two new paintings by Sendor in their booth at Art Basel. Wrought in monochrome, the works are skillfully rendered, with plenty of clever nods to both classical art history and contemporary culture.
http://www.artphaire.com/5-artists-watch-art-basel-miami-beach/
* * * * * * *
Andrew Sendor's work was highlighted in this article on the Huffington Post:
10 Painters Who Are Changing Their Medium In The 21 Century
http://www.huffingtonpost.com/2014/10/03/10-painters-of-tomorrow_n_5903498.html
* * * * * * *
Andrew Sendor's work was mentioned in this article in Art Dependence Magazine:
"It is interesting to observe the influence of digital media in the work of young artists. Undoubtedly, one of the most striking examples is Andrew Sendor's paintings, in which the pixel elements of the work look like a detail that is perfectly inscribed in the context of his work."
http://artdependence.com/issue/october-2014-1/article/100-painters-of-tomorrow
* * * * * * *
Sperone Westwater will be presenting new works at : ART BASEL Miami Beach, December 4-7, 2014
* * * * * * *
Andrew Sendor is featured in "100 Painters of Tomorrow," newly released by Thames & Hudson.
* * * * * * *
Sperone Westwater will be presenting one new painting at : ART BASEL
JUNE 19-24, 2014
* * * * * * *
Sperone Westwater will be presenting one new painting & 2 new drawings
at : ART BASEL Miami Beach
DECEMBER 5-8, 2013
* * * * * * *
Group exhibition that includes a painting by Andrew Sendor:
Art at the Core: The Intersection of Visual Art, Performance and Technology"
Including works by: Marina Abramavic, Gilbert & George, Andres Serrano, Jeff Wall, Thomas Zipp, Adam Pendleton, Martin Eder, Haroon Mirza, among others.
October 27, 2013 - July 27, 2014
Hudson Valley Center for Contemporary Art (HVCCA) Peekskill, NY
* * * * * * *
Sperone Westwater will be presenting one new painting at:
ART BASEL
JUNE 13-16, 2013
* * * * * * *
SOLO EXHIBITION:
Andrew Sendor
messages.calendar.camera.jpg
March 1 -30, 2013
Opening Reception: Friday, March 1, 6-8pm
SPERONE WESTWATER
257 Bowery
NYC, NY 10002212 999 7337
www.speronewestwater.com
* * * * * * *
click on this link to read an excerpt of British art historian/curator/writer/lecturer Ben Street's text about my work:
http://painters-table.com/link/ben-street/andrew-sendor-vanishing-point
* * * * * * *
Group exhibition that includes a recent work by Andrew Sendor
PORTRAITS / SELF-PORTRAITS FROM THE 16TH CENTURY TO THE 21ST CENTURY
Including works by: Francesco Clemente, George Condo, Eric Fischl, Gilbert & George, Francis Picabia, Pablo Picasso, Tom Sachs, Andy Warhol, among other artists of historical significance, as well as contemporary painters working today.
January 12 - February 25
reception: January 12th, 6-8pm
SPERONE WESTWATER
257 Bowery
NYC, NY 10002 212 999 7337
www.speronewestwater.com
* * * * * * * *
Art Platform - Los Angeles
presented work by Richard Heller Gallery
September 30th - October 3rd, 2011
* * * * * * * *
"Surrealist Visions"
May 3rd - July 1st, 2011
Dickinson Gallery
19 East 66th Street
New York, NY 10065
more information coming soon ....